Somewhere Back in Time World Tour was a concert tour by Iron Maiden in 2008 and 2009 to support the DVD release of their 1985 concert video Live After Death, as well as their 2008 greatest hits compilation CD Somewhere Back in Time. Being a re-creation of the band's 1985 World Slavery Tour, the stage is designed with an Ancient Egyptian theme and the set list primarily consists of songs from the 1984 album Powerslave. Songs from Iron Maiden (1980), Killers (1981), The Number of the Beast (1982), Piece of Mind (1983), Somewhere in Time (1986), Seventh Son of a Seventh Son (1988), and Fear of the Dark (1992) also comprise the set list.
Tour commentary
Edit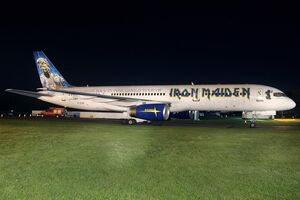 The first leg of Iron Maiden's Somewhere Back in Time World Tour opened in Mumbai, India on Feb 1st, and continued through Australia, Japan, Los Angeles and Mexico, followed by the band's first ever concerts in Costa Rica and Colombia, and then on to Brazil, Argentina, Chile, Puerto Rico and New York, before finishing in Toronto, Canada, on March 16. Over the 45 day period the band played 23 concerts to over 500,000 fans in 11 countries, flying close to 50,000 miles in the specially refitted plane.
EMA Telstar announced that the Maiden tour will be the biggest rock tour that any band has ever undertaken in these Nordic regions. Comments tour promoter Thomas Johansson of EMA Telstar:
"We are all very proud to be making history by giving our rock fans the biggest Nordic Rock Tour there has ever been and certainly one of the most spectacular. Maiden is so hugely popular with the Nordic peoples that we wanted to ensure that as many fans as possible got the opportunity to see this very special show next year as we expect demand for tickets to be enormous."
Maiden had also announced that they would be returning to cities that they hadn't returned to for years. Western Canada is included, as their five city run through Western Canada had sold out the very day they went on sale. Calgary and Regina had sold out in just under an hour. Edmonton sold out completely in a few hours. Winnipeg and Vancouver sold out within two hours. Calgary also had the highest pre-sale ever for the band, in which they sold out half the tickets. Edmonton and Regina were not far behind. Says Dickinson about the results: "We are truly overwhelmed by this response, especially as some of these cities we haven't played in 20 years!! Being Brits we are always very comfortable with Canadians and it will be a great pleasure to get back on the prairies again. It was always a LOUD response there! We look forward to this immensely and hope to give you all a show to remember." Most recently they played at Madison Square Garden in New York City. Tickets to this show were sold out. During the performance of "Powerslave" the band's instruments lost power for a brief period of time and they passed time by playing english football on the stage. Once the equipment was fixed they returned and asked the audience if they should play the last verse of the song or do the next one. The band opted to play the next song which was "Heaven Can Wait". Rarely ever have Maiden been cancelling gigs in the past 2 years, but due to storm damage to the PA and lights at the Metalway Festival in Zaragoza, Spain, Maiden had to cancel their July 12 date.
Opening Bands
Edit
Opening bands for this tour are:
First Leg: Lauren Harris, Vanishing Point, Behind Crimson Eyes, Parikrama.
Second Leg: Lauren Harris, Anthrax (May 30 and 31 only) and Trivium (June 14 only).
Third Leg: Lauren Harris, Within Temptation (just at Twickenham Stadium and TT in Assen), Kamelot (only at TT in Assen), Avenged Sevenfold (not at every gig), Made Of Hate (Warsaw show only), Salamandra (Prague show only) and Slayer (Lisbon show).
Fourth Leg: Lauren Harris, Carcass, Atreyu, Morbid Angel, Anthrax (Bogota), Ágora (Mexico City), IRA (Monterrey), M.A.S.A.C.R.E. (Lima), Witchblade (Chile)
Setlist varied
Edit
2008 Setlist
Edit
Intro.Doctor Doctor/Transylvania/Churchill's Speech
"Aces High" (From Powerslave, 1984)
"2 Minutes to Midnight" (From Powerslave, 1984)
"Revelations" (From Piece of Mind, 1983)
"The Trooper" (From Piece of Mind, 1983)
"Wasted Years" (From Somewhere in Time, 1986)
"The Number of The Beast" (From The Number of the Beast, 1982)
"Can I Play with Madness" (From Seventh Son of a Seventh Son, 1988)
"Rime of the Ancient Mariner" (From Powerslave, 1984)
"Powerslave" (From Powerslave, 1984)
"Heaven Can Wait" (From Somewhere in Time, 1986)
"Run to the Hills" (From The Number of the Beast, 1982)
"Fear of The Dark" (From Fear of the Dark, 1992)
"Iron Maiden" (From Iron Maiden, 1980)
"Moonchild" (From Seventh Son of a Seventh Son, 1988)
"The Clairvoyant" (From Seventh Son of a Seventh Son, 1988)
"Hallowed Be Thy Name" (From The Number of the Beast, 1982)
(the last three being the encore)
2009 Setlist
Edit
Intro.Doctor Doctor/Transylvania/Churchill's Speech
"Aces High" (From Powerslave, 1984)
"Wrathchild" (From Killers, 1988)
"2 Minutes to Midnight" (From Powerslave, 1984)
"Children of the Damned" (From The Number of the Beast, 1982)
"Phantom of the Opera" (From Iron Maiden, 1980)
"The Trooper" (From Piece of Mind, 1983)
"Wasted Years" (From Somewhere in Time, 1986)
"Rime of the Ancient Mariner" (From Powerslave, 1984)
"Powerslave" (From Powerslave, 1984)
"Run to the Hills" (From The Number of the Beast, 1982)
"Fear of The Dark" (From Fear of the Dark, 1992)
"Hallowed Be Thy Name" (From The Number of the Beast, 1982)
"Iron Maiden" (From Iron Maiden, 1980)
"The Number of The Beast" (From The Number of the Beast, 1982)
"The Evil That Men Do" (From Seventh Son of a Seventh Son, 1988)
"Sanctuary" (From Iron Maiden, 1980)
(the last three being the encore)
Personnel
Edit
Tour Dates
Edit
Date
City
Country
Venue
Tickets sold
Tickets on sale
Percentage sold
Leg #1 (Asia, Oceania, North America & South America)
1 February 2008
Mumbai
India
Bandra-Kurla complex
30,000
30,000
100%
4 February 2008
Perth
Australia
Burswood Dome
14,000
14,000
100%
6 February 2008
Melbourne
Rod Laver Arena
11,000
11,000
100%
7 February 2008
11,000
11,000
100%
9 February 2008
Sydney
Acer Arena
10,610
10,610
100%
10 February 2008
10,610
10,610
100%
12 February 2008
Brisbane
Entertainment Centre
13,500
13,500
100%
15 February 2008
Yokohama
Japan
Yokohama Pacifico
4,000
4,000
100%
16 February 2008
Tokyo
Makuhari Messe
10,000
10,000
100%
19 February 2008
Inglewood, CA
United States
The Forum
14,142
14,142
100%
21 February 2008
Guadalajara
Mexico
Telmex Auditorium
11,000
11,000
100%
22 February 2008
Monterrey
Monterrey Arena
12,000
12,000
100%
24 February 2008
Mexico City
Foro Sol
52,159
52,159
100%
26 February 2008
San José
Costa Rica
Estadio Ricardo Saprissa Aymá
23,949
23,949
100%
28 February 2008
Bogotá
Colombia
Simón Bolívar Park
87,788
87,788
100%
2 March 2008
Sao Paulo
Brazil
Estádio Palestra Itália
37,812
37,812
100%
4 March 2008
Curitiba
Pedreira Paulo Leminski
20,000
20,000
100%
5 March 2008
Porto Alegre
Gigantinho
15,000
15,000
100%
7 March 2008
Buenos Aires
Argentina
Estadio Ricardo Etcheverry
25,000
25,000
100%
9 March 2008
Santiago
Chile
Pista Atletica
26,574
26,574
100%
12 March 2008
San Juan
Puerto Rico
Coliseo De Puerto Rico
11,548
13,626
85%
14 March 2008
East Rutherford, NJ
United States
Izod Center
14,154
14,154
100%
16 March 2008
Toronto
Canada
Air Canada Centre
13,766
13,766
100%
Leg #2 (North America)
21 May 2008
San Antonio, TX
United States
Verizon Wireless Amphitheater
13,667
19,982
68%
22 May 2008
The Woodlands, TX
Cynthia Woods Mitchell Pavilion
11,108
15,861
70%
25 May 2008
Albuquerque, NM
Journal Pavilion
14,973
14,973
100%
26 May 2008
Phoenix, AZ
Cricket Wireless Pavilion
11,435
19,921
57%
28 May 2008
Concord, CA
Sleep Train Pavilion
12,500
12,500
100%
30 May 2008
Irvine, CA
Verizon Wireless Amphitheater
16,133
16,133
100%
31 May 2008
16,133
16,133
100%
2 June 2008
Auburn, WA
White River Amphitheatre
13,188
19,508
68%
3 June 2008
Vancouver
Canada
Pacific Coliseum
17,150
17,150
100%
5 June 2008
Calgary
Pengrowth Saddledome
12,000
12,000
100%
6 June 2008
Edmonton
Rexall Place
13,000
13,000
100%
8 June 2008
Regina
Brandt Centre
7,000
7,000
100%
9 June 2008
Winnipeg
MTS Centre
12,500
12,500
100%
11 June 2008
Rosemont, IL
United States
Allstate Arena
12,254
13,041
94%
12 June 2008
Cuyahoga Falls, OH
Blossom Music Center
10,028
21,340
47%
14 June 2008
Holmdel, NJ
PNC Bank Arts Center
11,340
16,996
67%
15 June 2008
New York City
Madison Square Garden
20,000
20,000
100%
17 June 2008
Camden, NJ
Susquehanna Bank Center
7,779
25,265
31%
18 June 2008
Columbia, MD
Merriweather Post Pavilion
9,211
15,000
61%
20 June 2008
Mansfield, MA
Comcast Center
19,900
19,900
100%
21 June 2008
Montréal
Canada
Parc Jean-Drapeau
22,500
90,000
56%
Leg #3 (Europe)
27 June 2008
Bologna
Italy
Gods of Metal
40,000
40,000
100%
29 June 2008
Dessel
Belgium
Graspop Metal Meeting
55,000
55,000
100%
1 July 2008
Paris
France
Palais omnisports de Paris-Bercy
16,500
16,500
100%
2 July 2008
16,500
16,500
100%
5 July 2008
London
England
Twickenham Stadium
52,000
52,000
100%
9 July 2008
Lisbon
Portugal
Super Bock Super Rock
30,000
30,000
100%
11 July 2008
Mérida
Spain
Via de la Plata Festival
25,000
25,000
100%
12 July 2008
Zaragoza
Metalway Festival
(Cancelled)
16 July 2008
Stockholm
Sweden
Stockholms Olympiastadion
32,150
32,151
100%
18 July 2008
Helsinki
Finland
Helsinki Olympic Stadium
42,000
42,000
100%
19 July 2008
Tampere
Ratina Stadium
30,000
30,000
100%
22 July 2008
Trondheim
Norway
Lerkendal Stadium
24,000
24,000
100% [1]
24 July 2008
Oslo
Valle Hovin
26,000
30,000
87%
26 July 2008
Gothenburg
Sweden
Ullevi Stadium
56 132
56 132
100%
27 July 2008
Horsens
Denmark
Horsens Gods Bane Pladsen
13,000
25,000
52%
31 July 2008
Wacken
Germany
Wacken Open Air
72,000
72,000
100%
2 August 2008
Athens
Greece
Terra Vibe Park
35,000
35,000
100%
4 August 2008
Bucharest
Romania
Cotroceni Stadium
25,000
25,000
100%
7 August 2008
Warsaw
Poland
Gwardia Stadium
29,000
29,000
100%
8 August 2008
Prague
Czech Republic
Slavia Stadium
35,000
35,000
100%
10 August 2008
Split
Croatia
Poljud City Stadium
27,650
30,000
92.16%
12 August 2008
Budapest
Hungary
Sziget Festival
40,000
40,000
100%
14 August 2008
Basel
Switzerland
St. Jakobshalle
9,000
9,000
100%
16 August 2008
Assen
Netherlands
TT Circuit Assen
25,000
25,000
100% [2]
19 August 2008
Moscow
Russia
Olympic Arena
17,000
17,000
100%
Leg #4 (Europe, Asia, Oceania, North America & South America)
10 February 2009
Belgrade
Serbia
Belgrade Arena
13,850
15,000
96%
13 February 2009
Dubai
United Arab Emirates
Media City Amphitheatre
15 February 2009
Bangalore
India
Rock In India
60,000
20 February 2009
Auckland
New Zealand
Mount Smart Stadium
42,000
22 February 2009
Christchurch
Westpac Arena
10,000
25 February 2009
Monterrey
Mexico
Estadio Universitario
15,000
40,000
37%
26 February 2009
Guadalajara
Arena VFG
5,000
12,000
42%
28 February 2009
Mexico City
Foro Sol
25,000
50,000
50%
3 March 2009
Alajuela
Costa Rica
Estadio Alejandro Morera Soto
25,000
25,000
100%
5 March 2009
Caracas
Venezuela
Estadio Universitario
20,000
25,000
80%
7 March 2009
Bogota
Colombia
Simon Bolivar Park
70,000
87,000
90%
10 March 2009
Quito
Ecuador
Aucas Stadium
26,000
28,000
91%
12 March 2009
Manaus
Brazil
Sambodromo
15,000
14 March 2009
Rio de Janeiro
Praça da Apoteose
40,000
15 March 2009
Sao Paulo
Autodromo de Interlagos
400,000
18 March 2009
Belo Horizonte
Mineirinho
20,000
20 March 2009
Brasilia
Estádio Mané Garrincha
50,000
22 March 2009
Santiago
Chile
Club Hipico
65000
65,000
100%
26 March 2009
Lima
Peru
Estadio Nacional
32,000
40,000
80%
28 March 2009
Buenos Aires
Argentina
River Plate Stadium
41,000
65,000
63%
31 March 2009
Recife
Brazil
Jockey Club de Pernambuco
50,000
2 April 2009
Sunrise, FL
United States
BankAtlantic Center
Cite error: <ref> tags exist, but no <references/> tag was found